Strawberry Rhubarb Pie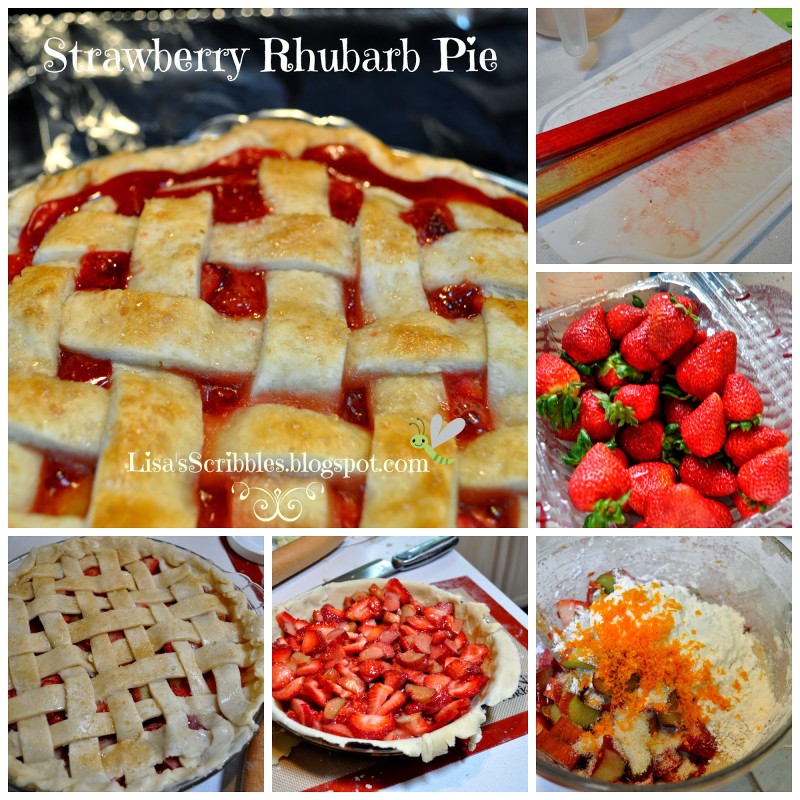 It's that time of year when strawberries are in season and I get to make Strawberry Rhubarb pie. I'm already drooling over here! My family loves this pie, and one never cuts it. I always have to make two! This was one of those lovely Pinterest pins that I found and tried out, with modifications of course, and boy was it delish! So without further ado, here you go.
Strawberry Rhubarb Pie
2015-10-09 09:33:00
Serves 8
A tasty sweet treat that always requires me to make two!
2 cups all purpose flour
1/4 teaspoon salt
2/3 cold butter or lard (yes I said lard–don't use Crisco use the real lard)
4-5 tablespoons cold water
3 cups sliced fresh strawberries
2 cups fresh rhubarb sliced
1 cup sugar (I used between 1/2 and 3/4 and it turned out just fine)
1/4 corn starch
2 tablespoons freshly grated orange zest
1 tablespoon milk
1 tablespoon sugar (I prefer sugar in the raw as it's a coarser grain)
Heat oven to 425 degrees.
Combine flour and salt in a large bowl or food processor.
Cut in butter or lard with a pastry blender or pulse in the food processor until mixture resembles coarse crumbs.
Add in just enough water until moistened.
Shape pastry into ball, and divide in half.
Shape each half into a ball and wrap in plastic wrap.
Refrigerate. Chill while preparing filling.
Combine all filling ingredients in large bowl, toss to coat fruit. Set aside.
Roll out first half of chilled dough to about an 12-inch circle.
Fold into quarters and place in 9 quart pie dish; unfold, pressing firmly against bottom and sides. Trim crust to 1/2 inch from edge of pan. Add filling.
Roll out second half of chilled dough to 11-inch circle and cut into strips. You'll need about 10 strips.
Use strips to create a criss-cross pattern over pie crust and filling. Trim ends.
Fold remaining edge of bottom crust over strips; crimp or flute edges.
Brush crust with milk and then sprinkle with sugar.
Bake for 55 to 65 minutes or until crust is golden brown and juices bubble*.
Cool 1 hour before serving.
Pie may bubble over, at least mine always does. For easy clean up place a sheet of foil on oven rack beneath pie to catch any drips.
Lisa's Scribbles http://www.lisasscribbles.com/